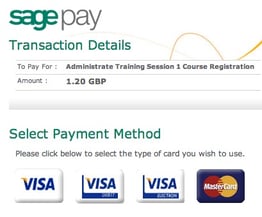 Our WordPress Plugin helps training providers who run WordPress websites easily accept online course bookings. You can learn more about how the plugin makes it super easy setup a great looking and performing website here.
New Payment Processor: Sage Pay
Today we've released an update to the WordPress plugin that adds Sage Pay as a payment provider. Sage Pay is a popular payment provider in the United Kingdom and Europe, and you can learn more about their services on their website.
Getting Started with Sage Pay
To get started with the Administrate WordPress plugin and Sage Pay:
Make sure you've updated to the latest version of the plugin from within your WordPress admin panel. You'll need your encryption key and vendor name that Sage Pay provide you with upon sign up as well.
Enter your Sage Pay credentials, and make sure the plugin is set to use Sage Pay
Once you've saved your changes, prospective students will have Sage Pay as an option and be able to pay you via credit card or any other payment method that Sage Pay supports.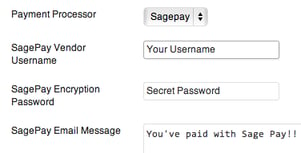 It's worth noting that all payment details are handled by Sage Pay which means your customer's details are safe and secure, and you don't need to worry about the risk associated with collecting this information. Accepting online course bookings is the best way to increase your bookings, and getting paid upon booking is another great time saver!
Want More Information?
Remember, if you have any questions, don't hesitate to get in touch with our fantastic support team or check out our great online documentation portal!