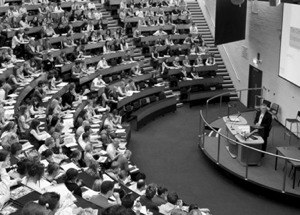 From logistics such as handing out papers to classroom management, teaching large classes can pose unique challenges. We'll address some of the common problems that come with large classes and offer practical solutions.
How to Personalise Large Class Experiences
Many large classes or seminars leave students feeling anonymous, which can lead to disinterest or a lack of participation. It's important to find ways to draw your students in, despite large numbers.
Create seating charts with students' names so you can call on them by name and keep track of attendance easily if necessary. If a seating chart feels too formal, have your students wear name tags or make name plates for their desks. It's not enough to just have names displayed though, actually use them! Call on students by name, which will help boost participation and also assist with classroom management.
Circulate throughout the room often, making eye contact with as many people as possible. This will encourage participation, especially from the people sitting way in the back! Arrive early and stay late to allow time to talk with students as they come in and leave. Make yourself available to them through office hours, by email or by consistently being able to talk before and after class.
How to Manage Material Distribution and Assignment Collection
Handing out materials, tests or other papers can take up a lot of time. So can collecting homework or in class assignments.
Have materials ready for students to pick up as they come in to class. (If you take attendance, they can also sign in at the door!). This also works for collecting some homework assignments or graded work. However, if you distribute graded papers this way, don't put the grade on the front page for privacy sake.
Decide upon a procedure for collecting materials before your class ever begins. Explain the procedures at the beginning of the course and then use the same process each time. For example, always have students pass papers to the end of each row and then pass forward. Doing the same procedure will cut down on explanation and keep things simple.
How to Prevent Cheating
Cheating is much easier and more common in large classes! It doesn't have to be though:
Create different forms of tests. The questions can be the same, just put them in different order or arrangements. Distribute the different tests based on where people are sitting, so no two people near each other have the same form.
Have a question on your test that only someone who has been in your class would know the answer. For example, if you've mentioned several times throughout the course the name of your spouse or if you always drink coffee out of a blue mug, then ask about it. That should clue you in on if someone came in to take a test for a student (or if someone is really just not paying attention!).
Walk around the class while they're taking the test. Look for anything suspicious like students sitting closer than normal.
Sit at the back of the class to observe students - this way they can't see you, but you can see them.
Don't allow anything other than a pencil/pen and the test paper to be out on the desk, and think about asking students to store anything else at the back of the classroom away from their desk.
Remind students that cheating may provide them a short term benefit, but will ultimately harm them.
Conclusion
Large classes aren't always ideal, but they can be managed to maximise their potential. Just because a class is large doesn't mean you can't be engaging and deliver a great experience, you'll just have to work a bit harder.
Interested in More Blog Posts Like This?
Download our free eBook 'How to Deliver Better Training 2013' to read this blog post and more!