In a world where the training industry becomes more competitive and diverse by the day, finding ways to stand out in your segment of the marketplace can be a real challenge. From the perspective of the buyer, their mindset is often fairly simple, but often over-complicated. In many regards, it boils down to this:
Give me the knowledge and qualifications I need, in exchange for this amount of time and money.
Your job is making clear that your company is in the best position to deliver that.
Your marketing mix might consist of a range of different practices - monthly listings in trade magazines, a radio campaign here and there, automated emails, networking events, and so on. The trouble is, everyone's doing it. Marketing automation software isn't new anymore, and frankly, everyone gets far more emails than they have the time to read. In this post, we're going to cover some of the top marketing tactics that training companies can use to secure high-value business.
N.B - The tactics mentioned in this post aren't a replacement for a well-crafted strategy. Your marketing strategy should outline where you want to go as a business. However, these tactics in conjunction with others across the marketing mix can be instrumental in making sure your strategy can succeed.
Handwritten Letters
The pen is mightier than the sword, but it's also mightier than the email. When was the last time you received a handwritten letter? Sometimes standing out doesn't require an incredibly innovative solution. Roll back the clock, get yourself some nice branded paper stock, and get the stationery out. Several studies and thought-leaders are championing the revival of letters, and they have shown incredible open and response rates. It's much harder to ignore a message when someone has clearly taken the time to scribe a dedicated note to you, and while it's unlikely that they'll pick up the pen and write you a response, you should expect an email or call to say thanks. And if one doesn't come, phoning up to check someone got a letter is a much nicer conversation than checking they got your sales email. If your customer is valuable to you, make the effort. Letters built the business world before email, and apart from laziness, there's little reason to not send a valuable customer a tailored communication. Of course, it doesn't need to be a new prospect - consider sending letters to old customers encouraging them to revisit, or unhappy existing customers to win them over.
Bonus - With Administrate partner Lead Liaison, you can actually make handwritten letters part of your automated marketing strategy!
Send a Present
Admittedly this one can be tricky. Just because we're a Scottish company doesn't mean we can send bottles of whisky to everyone. It can take a little bit of customer knowledge to get it right, but it can often be a great way to shake that high-value prospect out the pipe. Be creative in what you send, and how you send it. Check out the example below, where an agency sent a company a locked box full of sweets and insisted that the unlock code could only be obtained by booking a call! Sure, it may have cost £25-30 to create the hamper, padlock it, and post it. But the value of a booked meeting is almost certain to be much higher.
Plus, if you were really mean, you could always go and pick it up...
Your gifts and parcels don't need to be quite as big and high involvement as this. But it shows the potential that thinking outside the box can provide. This more than certainly will have got people talking in the office, sharing it on social media, and creating some great noise about your brand. Even if your target doesn't buy, their friends and peers might. A health and safety training company could send a hard hat with a letter - there's no shortage of ways to communicate!
Adopt Their Brand
Ultimately, sometimes there's no better way to show a company you mean business than to use their services. Or if not using their services, at least show that you love them. Custom printing service, Ramp, nailed this perfectly in an email campaign where their CEO would be pictured wearing a t-shirt with the target company's logo on it. You can see a little of how this worked in practice below: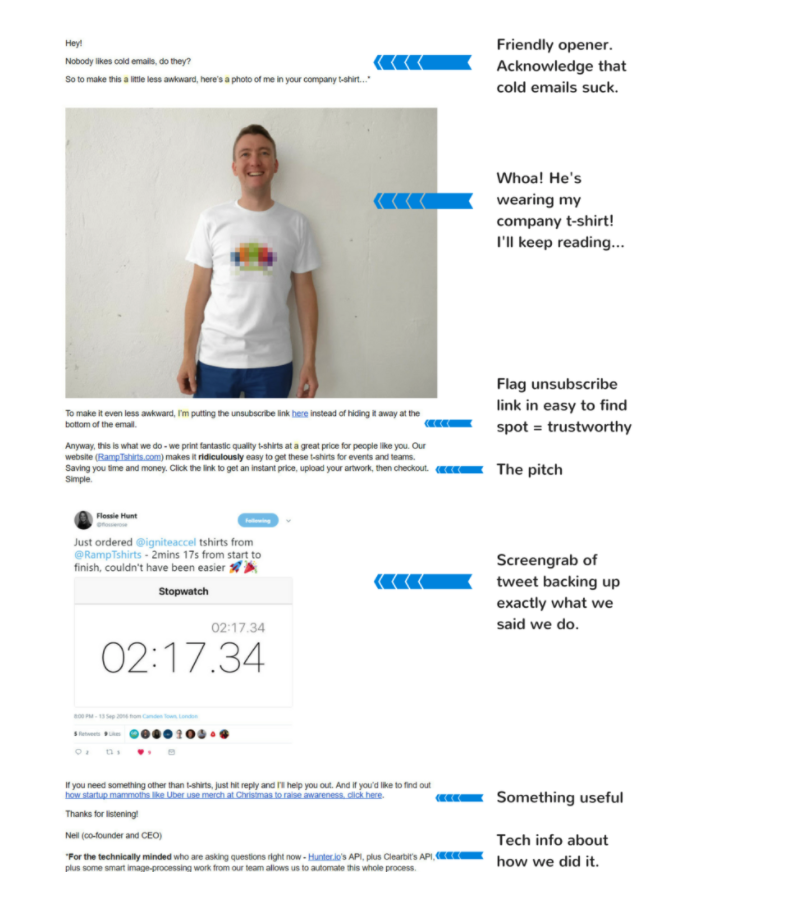 The sad reality is that in fact, he didn't print thousands of t-shirts - there's just a devilish level of Photoshop brilliance at play. However, the impact and results were incredible. Ramp claim that 90% of respondents did so positively, or ordered straight-away. You can read the whole story of their campaign and some of the results on their blog, right here.
Showing that you've invested some level of time and thought about the brand before sending them your marketing material is a sure-fire way to maximise your chances of positive engagement. And much like with sending a present or writing a letter, your end customer might not necessarily be the recipient - it could just as easily be the colleague they show the content to. Printing hundreds of t-shirts might not be the way forward for everyone. But anyone can add that extra level of personalisation to connect with a brand. What about a personal video message, helping readers put a face to emails? There's no shortage of tools out there to help you do just that - all you need to do is get started!
Summary
As mentioned at the very start of this post, the training and learning sectors are increasingly competitive, and the need to stand out from the crowd has never been greater. In many ways though, this creates the greatest marketing opportunity the field has ever seen. The influx of competition means that target prospects are consistently on the receiving end of the same old messaging and approaches "because they've worked before". That's not only lazy thinking, it's dangerous and stifles innovation across the company - not just within your marketing operation. You and your training company can do better.
In short: Never be scared to zig while everyone else zags.