Why work harder when you can work smarter? As our careers page attests, we're big advocates of people who just 'get things done'. A high level of productivity is vital if we're to continue to deliver success to our customers, especially given that our team works a four day week.
We've previously offered some top tips for training professionals to stay productive, so by way of a follow up, we thought we'd share 3 key tools we use to stay on top of our productivity game.
1. Trello
Trello is an incredible, cloud-based, project management tool made by Fog Creek Software. Better still, it's free, so no excuses for not giving it a try! Adopting the Japanese inventory-control system Kanban pioneered by an industrial engineer at Toyota in the eighties, Trello can seem quite simplistic upon first glance.
Projects are represented by boards, boards contain lists (corresponding to task lists) and lists contain cards (corresponding to individual tasks). So you might want to have three lists to start off with - To Do, Doing and Done. As projects progress you simply drag and drop the cards between the lists.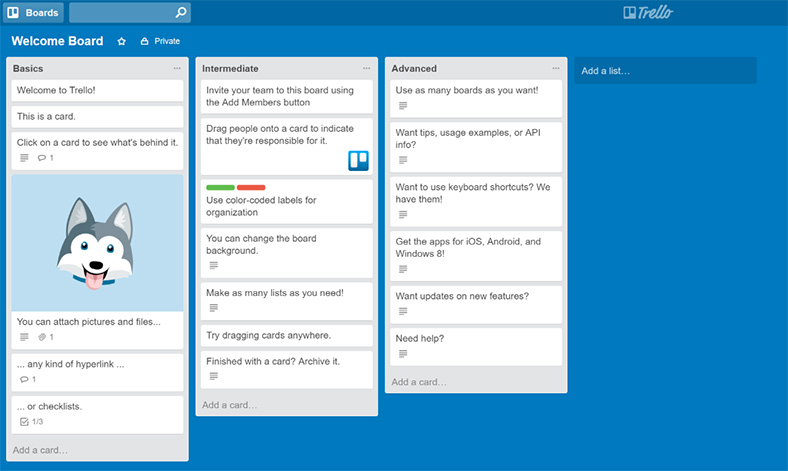 In reality, Trello is surprisingly powerful, offering a great deal of flexibility and the ability to integrate with other tools and software. Perfect for facilitating inter-team collaboration, tasks can be assigned to individuals or groups and email alerts configured so that everyone gets reminders of the tasks they've been assigned to, or subscribed to. Among a whole host of other fantastic features, labels (essentially colours) can be applied to tasks to quickly and easily group them.
In a nutshell, Trello helps you keep track of where projects are and ensures that nothing is forgotten as you hurtle through a busy working week.
Top Tip - If you're using an agile methodology, you can use Trello to run sprints. Simply create a board for your sprint and add your required lists (e.g. Backlog, On Deck, Doing, Quality Assurance and Done) then move cards between them accordingly and watch your productivity skyrocket! Add the Scrum for Trello extension and you can even allocate points (time) to each task too!
2. Slack
Launched in February 2014, Slack is a free cloud-based team collaboration tool with 2.7 million daily active users that boasts the envious status of being the fastest company in history to reach a $1 billion valuation, taking just 1.25 years!
Using the tool, you can see why - essentially it's a modern-age Intranet for your company. They've built an incredibly useful messaging app for businesses to reduce the strain on emails and encourage cross-team dialogue and collaboration. All content across Slack is made searchable which helps elevate it to be used as a one-stop shop to share documents with colleagues - no more 'inbox-killing' gigantic email attachments!
Slack also features a range of emoticons and you can use giphys and add reactions to posts, which help add a bit of fun to your communications. Our office favourite is /giphy boom to celebrate successes!
Fun Facts! - Slack is actually an acronym, standing for Searchable Log of All Conversation and Knowledge. It actually started life as an internal tool for a software company called Tiny Speck who used it for team collaboration while developing a video game called Glitch. The video game was shelved in 2012, but Slack has thrived ever since!
3. Administrate's CRM and DMS
OK, so we may be a little biased about these tools, but hey - we love them! Also, you could probably argue that they're two separate tools, but we'd say that our software is so well integrated that everything works as one. We're modest like that.
CRM (Customer Relationship Management)
Shared drives, spreadsheets, pens, paper - all relics of the past when you get setup with our comprehensive CRM system.
Customisable and specifically built for training providers, it offers a quick and easy way to engage with your students, suppliers, clients and instructors. Less headaches, increased productivity and most importantly, more time. Time that you can use to further improve your training product, chase new leads, develop your own teams skills or simply explore the range of fun emoticons and giphy's in Slack!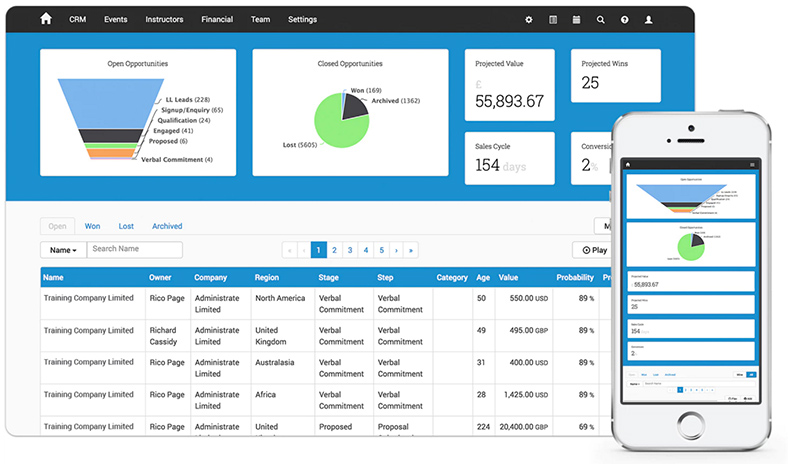 DMS (Document Management System)
While it's useful being able to send each other files through Slack, it's also vital to have a central repository where the whole team can access all your files at any time.
Enter the Administrate DMS. Documents are securely stored in the cloud, meaning you can access them wherever you are in the world without battling with clunky corporate VPN connections. They also have full versioning control, so you can't accidentally lose precious work. Finally, configurable permission levels make sure that only the right eyes see the right files at the right time.
Got a favourite Trello or Slack integration you'd love to share? Finding that the Administrate CRM has transformed your training operation? Please share in the comments below.