What a crazy year it's been - here's a look back at 2013 for Administrate. We hope you're having a wonderful holiday season.
We Moved!
January saw us kick off the new year by moving our offices from Glasgow to Edinburgh's TechCube, a brand new startup accelerator based in the Old Town of Edinburgh. Our new offices boasted an incredible view of Arthur's Seat and the Pentlands, and we really enjoyed getting to know many of the amazing tech companies (Stipso, Float) that are our neighbours.
Transparency and Our Values
One focus for 2013 was increased transparency in all areas, one of our core values, and we continued this trend by publishing our product roadmap, blogging about our values, and rolling out a brand new online support and documentation portal which covers every aspect of operating the Administrate platform.
We Doubled in Size, Again!
Another focus of ours was sustainable customer and revenue growth, continuing the theme we started in 2012. Due in a large part to the fact that we doubled our revenues in the year 2012, we were humbled to be nominated as one of Scotland's fastest growing tech companies (ultimately coming in second to TechCube neighbours FanDuel) this past summer. As we close out 2013, we're thrilled to report that we have doubled in size again!
All of this growth wouldn't have been possible without our incredible team, and just like our product line and customer numbers, our staff increased as well. We tripled our tech support staff, added strength to our sales and marketing teams, and enhanced our customer service arm with additional training and on-boarding services.
Faster, Better Products
In January we launched a public beta of our new Learning Management System. Some of our largest customers took part in this extended test by offering real online courses to their students while we worked closely with them to identify and troubleshoot problems. We couldn't have been happier with the results - to date many thousands of students have logged hundreds of thousands of hours in multiple languages using our eLearning environment.
The addition of our new team members in other areas of the company meant we could focus our product team on new enhancements, and we saw some major "under the hood" improvements come to our technical infrastructure in the first half of the year. These upgrades improved speed and reliability, and for the year we achieved a 99.989% uptime, verified by third party monitoring service Pingdom. This kind of reliability is one of our core values, and we'll continue to invest in improved infrastructure as we chase our goal of 100% availability.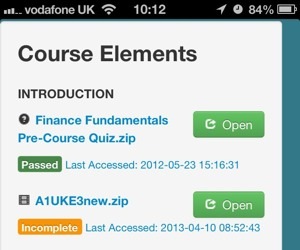 We also rolled out several major time saving and automation enhancements including automated emails and mobile calendar integrations. We were proud to release our new LMS in the summer, and were really excited to have one eLearning blogger award it a Top Ten ranking out of over 500 LMS systems worldwide!
To help training companies manage their websites we also launched our WordPress course booking and payment plugin. This addition quickly proved to be extremely popular and is now in use on many of our customer's WordPress websites. Lastly, for our more technically inclined customers, we also released a brand new comprehensive REST API designed to accommodate advanced integrations for those training companies and departments that want to further customise Administrate.
Training Tips for Teachers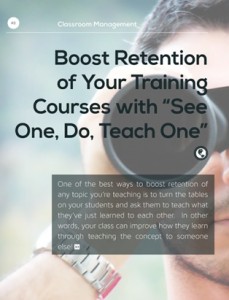 Throughout the year we made it a priority to help our customers beyond our software, and we commissioned a team of certified teachers to write a regular series of training tips which we published on our blog. Feel free to peruse the collection or if you'd like to have everything collected into one resource, we released a free eBook titled "How to Deliver Better Training 2013" which you can download for free! We believe that education will always transcend software and we'll continue to be invest in learning how to better deliver education.
A Truly Global Presence
While the support, product, and sales teams were hard at work at our headquarters in beautiful Scotland, we did venture out and attend selected educational technology trade events around the world. In January we attended Learning Technologies in London, May saw us winging our way to Texas to exhibit at ASTD, and in October we exhibited at GITEX in Dubai. Along the way we gave hundreds of demos, raffled a few bottles of whisky, attended a Texan Rodeo, and ate some incredible local cuisine. Now at the end of 2013, we have customers on six continents including major brands like PwC, Scania, LearnDirect, University of York, and Elsevier.
We Can't Wait for 2014!
Next year will see us continue to invest in our training management system, learning management system, and online course booking options, all of which are built just for training providers. Stay tuned for a lot more of everything, and for those of you who are customers, we deeply appreciate your support. Thanks and have a wonderful rest of the year!