Great Communication is Time Consuming but Critical
Have you ever wished you could automate the communications you need to send to your students? Sending invoices, booking confirmations, and reminders are time consuming and annoying, but they're also absolutely critical to the lifeblood of any successful training organisation.
Today, everything about that process has changed!
We're really excited to announce the release of our new Communication Triggers as part of our broader communications suite. Now you can automate those critical and important emails!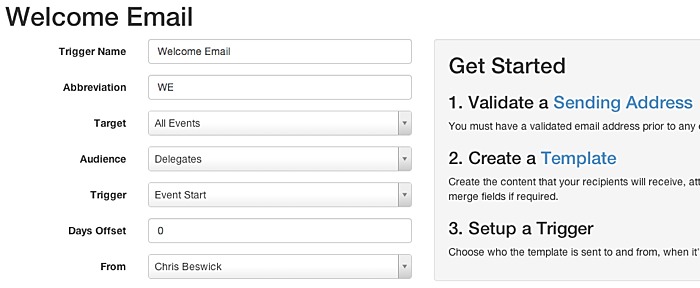 Here's How it Works:
Validate a Sending Address - First you'll need to confirm the sending email address you're sending from to prevent mistakes and spam.
Create a Template - Now, setup a template using HTML or plain text. You can include relevant event details with hundreds of available replacement variables to customise the template to each individual recipient. For example, you might want to include their first name, the name of their event, time, location, and instructor details. You can also include any number of attachments from the Administrate Document Management System, or any number of Administrate generated documents (like an Invoice).
Setup a Trigger - Now you can define the workflow you want. For example, maybe you want to remind delegates about their upcoming class three days before the event. Or perhaps you want to send your instructor a list of delegates that have registered on the class they're teaching next. These are just a couple of examples of how you can start automated your event management.
Once the trigger is defined, you'll want to leave it on "manual review mode" to make sure everything looks OK. The system will hold all emails and you'll be able to preview them prior to sending so that you have time to catch mistakes. Once you're satisfied, switch the trigger to automatic and watch them go!
Never Lose an Email Again
Administrate keeps a log of all emails that are sent, and you'll have visibility when an email bounces, is delivered, is opened, and whether or not they've clicked on any links. We're using a Tier 1 email service provider for delivery so that you don't have to worry about emails being flagged as spam or not being delivered. Emails sent are also logged and visible on records within the Administrate CRM so you have a complete picture of all communications sent and received.

Save Hours of Complicated and Critical Admin Work
Using this system will save you many hours each week. You won't have to manually send out reminders, invoices, booking confirmations, or any kind of regular communication ever again! Most training providers are managing hundreds of student interactions, and even if these only take a few minutes, the time involved can really add up!
Part of a Broader Communications Suite, Built Just for Training Providers
Our new Communications Triggers are just one part of the broader Administrate communications suite. We love helping you keep your communications flowing!
Get Access Today!
Our communications triggers are available now. If you're not a current customer, just signup for a free trial of Administrate and we'll be in touch to walk you through it! Existing customers can get started experimenting right away as well - if you need help, make sure you check out our support docs or contact our Support Desk. Enjoy!