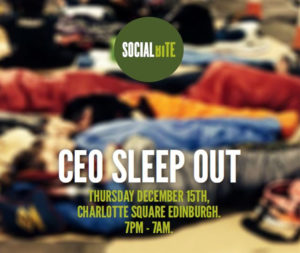 Edinburgh has seen an incredible drop in temperature over the last month, and its likely December will be even colder. It's estimated that there are currently around 35,000 homeless living in Scotland and it's especially important we spare a thought for them at this time of year.
For one night only, let's also spare a thought for our CEO John! On 15th December, he will join over 100 business leaders, and Olympian Sir Chris Hoy, to brave a cold night on the streets of Edinburgh. With just a sleeping bag to keep them warm, John and his peers will experience some of the hardship that Edinburgh's homeless face everyday.
The sleepout is part of socially conscious cafe Social Bite's effort to break the cycle of homelessness in Scotland. Money raised from the night will go towards their construction of a village for 20 homeless people to live in for 12 months, supported by links to employment opportunities.
Administrate has long been a patron of Social Bite. We asked them to cater our first customer conference, LITE 2015, favouring them because they are a business that reflects many of our own values. The cafe represents a forward thinking and sustainable business. Committed to investing in their team, 25% of their staff are made up of people that the cafe has helped out of homelessness and into full time employment.
The sleepout takes place in Charlotte Square, from 7pm to 7am the following morning. If you'd like to sponsor John, please donate through his JustGiving page here.