It's been a whirlwind few days here in Las Vegas at DevLearn 2014. As always, the Administrate trade show crew arrived in town with their hyper portable booth, ready to set up shop and tell people about our software. Earlier in the year, we attended Learning Solutions 2014 in Orlando, a sister show of DevLearn, and we really enjoyed it (and got quite a few new customers!).
These shows, produced by the E-Learning Guild, feature really great content and training sessions along with the Expo. As exhibitors, we generally don't have much time to attend sessions or take in the great lineup of speakers (this year's keynote was by Neil deGrasse Tyson) but we do hear quite a lot from attendees, and the general feeling is that the programming for these shows is stellar.
Craig Weiss of E-Learning 24/7
We were really fortunate to have Craig Weiss of E-Learning 24/7, who was also a presenter at this year's DevLearn, stop by the booth for an extended chat. We love the fact that Craig is often found "crossing the pond" to speak and do business in the UK, and we enjoyed giving him a tour of some of our soon-to-be release product enhancements that we were showing off at the show. We got a nice mention in his DevLearn day one update:
"Administrate: Loved some of the new functionality including an update to the UI, and a new sales opportunities compontent to the built-in crm. For those who want to do their own CSS, you can with the product, but not required. Now includes concierge services as part of setup."
If you're curious about the customisation options he's referring to, make sure you check out our latest LMS release which includes new tools for web designers who are looking to heavily customise a mobile friendly LMS.
Inkling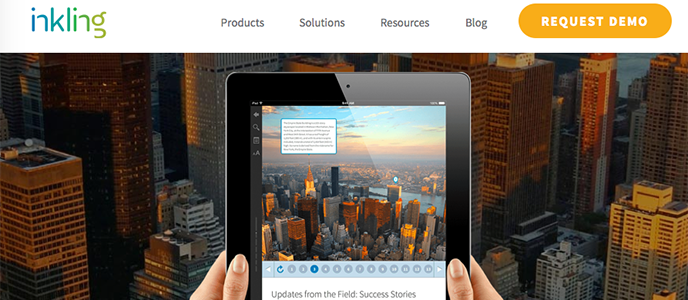 One of the most impressive products we saw at DevLearn was the cloud publishing platform Inkling. At first, it looks to be a much nicer looking (and easier to use) Google Docs replacement, but there are several features that set it apart, most notably (for the education industry) the ability to output HTML5 SCORM content. Founded in Silicon Valley by some ex-Apple employees who wanted to capitalise on the tablet revolution, Inkling takes a lot of care in the visual design of their products, and we were impressed by their booth display which featured a huge number of tablets lined up, all showing the same document which had been authored with their platform. If you're looking for a truly modern, beautiful platform to author your next document or SCORM file, you should definitely keep them in mind.
TruScribe
Another booth we liked was from the scribblers at TruScribe. Producers of high quality "whiteboard style" videos that tell your story or get your message across with animated drawings, the folks at TruScribe provide an end product that is really engaging. They had some nice interactive videos that very quickly and clearly explained their product offering. They've also got a nice blog including a post about where their whiteboard video approach WON'T work - we love the transparency!
Darim iStudio
Another very interesting booth that we thought was really out there was from Korean company Darim showing off their iStudio product. Essentially a video kit that pairs a green screen with a software preprocessor that runs on your notebook, the iStudio lets you add video effects (including backgrounds) to your presentations in real time. The templates they were using to demonstrate were a little far out, but the system seems to have potential and it surely caught our attention while walking to show floor!
Overall, we have a great time at DevLearn 2014! It's really exciting to get to spend time with other learning professionals and see what all the other booths have to offer.
If you missed us this time around, don't worry! You can catch us at the Learning Solutions 2015 in Orlando, Florida from March 25-27. We hope to see you there!