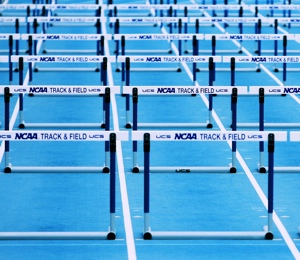 Do you face any of the hurdles below while trying to deliver great training? If so, you're not alone!
It's probably time you checked out a training administration system. Training administration systems (also called training management systems) are software systems designed for training providers to help them manage everything about their operations in one place. They're different from Learning Management Systems and should complement the LMS you may already have.
Administrate is our comprehensive online training management system that's used around the world - read more to learn how we'll be able to help you save time and money by avoiding the following ten hurdles.
1. Your website will remain up-to-date.
It's really difficult to keep any website up-to-date, let alone one that should be advising potential students of upcoming courses and training offerings! Link your website with our training management system so that when you make changes, it updates! Administrate provides several website integration options that can work no matter what web host or technology your website uses. Even better, we provide online course booking, payment processing, and SEO features to automate the entire process and get you more business!
Interested? Read More:
2. Invoicing will be much faster and more accurate.
Can you generate an invoice for your students in seconds? Can you do it automatically? With Administrate, you can generate and email an invoice to a student in a couple of clicks. Don't like manual effort? Neither do we! Instead, set the invoice to be automatically generated and emailed to your student after an event has occurred or after a registration has been made. Our software will send out the email you specify, when you specify it and give you a delivery report that can even show when the email was opened!
3. You'll never lose track of an interested student or business opportunity.
Without a system designed to help you keep track of everything, you run the risk of losing valuable sales leads! Training management software should help you process your inbound enquiries and keep you on top of what's happened with an opportunity without tons of additional effort. Administrate includes email integration (so you don't have to retype what's already been written), sales funnel reporting, reminders, and a single screen that shows you all relevant opportunity information in one place.
4. Important emails and reminders will be sent automatically.
Think of all the emails you send everyday to your students, instructors, coworkers, and partners. What if you could automate most of them? Why not send out joining instructions, invoices, evaluation forms, and all the other repetitive (but so important) emails automatically? With a training management solution like Administrate, you can! Just specify the email, who it should go to, and when (based on an extensive library of possible triggers) and off your emails go, without you needing to remember or worry about them.
Interested? Read More:
5. Monitor your business or department on-the-go.
When you're on the road and need to get important contact details, a document, or the details of an upcoming course, can you easily access this information or is it written down on paper or Excel spreadsheets back at the office? The best training administration systems are online and allow you to access your business or department from anywhere. Administrate does this is also mobile friendly for when you need to access the system from your handheld device!
Interested? Read More:
6. Bad debt will be a thing of the past.
Keeping track of bad debt can be a burden to any department or small business. Training companies are no exception, but a training management system will be able to quickly give you a clear and accurate view of all unsettled invoices. Better yet, use Administrate to make it impossible for bad debt to be created by securely taking payment online for your courses as students register!
7. Scheduling courses, instructors, and resources will be a quick and easy.
With a properly implemented training administration solution, you should be able to specify your course templates then quickly schedule courses when you need them. This is something that really saves a lot of time once you've got it set up, and it can further protect larger organisations from making scheduling mistakes or forgetting important information.
8. Eliminate expensive IT consulting and integration projects.
Many training operations need to tie together three or four different types of systems: CRM, Accounting, Event Management, and possibly a Marketing tool. This often involves quite a bit of integration work done by IT consultants or staff, and it can be an ongoing maintenance burden. Software that's built to handle all those functions like Administrate will mean you can free up these valuable people and put them to work on projects that make you money or improve your courses!
Interested? Read More:
9. Reporting will be a breeze.
We include a custom reporting tool in addition to loads of great stock reports. You'll be able to build reports that examine course profitability, resource availability, your ongoing costs, and anything else you can think of with just a few clicks!
10. You'll never struggle with eLearning again.
eLearning can be overwhelming, but it doesn't have to be! Administrate will help you get your SCORM content up and running within our critically acclaimed (Ranked Top Ten Worldwide) Learning Management System. We designed it to support everything from small online classes to large global courses taken by thousands of students. You can customise it, offer online courses in any language, and get great reports on how your classes are progressing.
Interested? Read More:
What are You Waiting For?
Try out for the Administrate system for free! Sometimes it can be hard to believe that there's a single software system out there that takes care of all of these hurdles, but it's true. Not only is Administrate comprehensive, it's affordable! Most of our companies spend more on their office utilities like power and heat than they do on Administrate.
We've helped our customers educate more than 1.4 million students in the last two years, and we continue to attract companies and internal training departments who are looking to shed their admin burden.