Events like our conference, LITE 2017, really remind us how much we like talking to and spending time with our customers! Recently we spent some time with ExecuTrain, who have been an Administrate customer since 2014, to see what it's like using our software in their business everyday, and how we've helped them grow and become more successful in the past three years.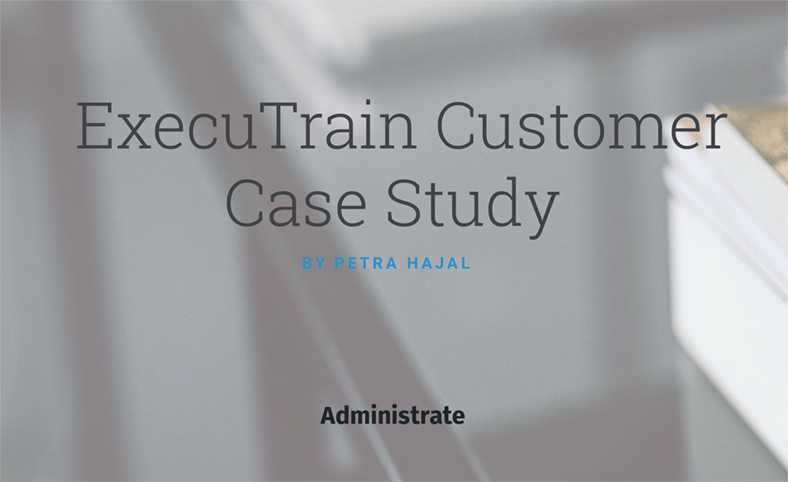 ExecuTrain has been a worldwide business training leader in the training industry for over 30 years, with 12 million people having attended ExecuTrain classes to date! We spoke to Rhonda Brotherton, Learning Solutions Program Manager at ExecuTrain, to see what life was like before Administrate, and how implementing our software has changed the way their business runs.
You can read all about ExecuTrain and Administrate in out latest customer case study.
In the case study we look at:
ExecuTrain and Administrate - A bit of background information on ExecuTrain and Administrate's relationship to date.
The Challenge - The reasons why ExecuTrain decided to actively seek out a training management solution like Administrate.
The Solution – Finding Administrate - A look at how ExecuTrain found making the move to Administrate, and what the implementation process was like.
Results – Administrate Saves ExecuTrain Time - Details of how Administrate helps ExecuTrain specifically save lots of time when it comes to their training administration.
Administrate Helps ExecuTrain Keep Track of Their Financials - Reporting is a huge part of Administrate's offering, and we look at how ExecuTrain is making use of our reporting system to track their financials.
Administrate Helps ExecuTrain Scale - ExecuTrain discuss how they hope to grow as a business with the help of Administrate.
To read the full case study, simply fill in your details below!