As a training company, you're obviously aware of the importance of training. However, if it's something you offer on a commercial level, it can be easy to let your internal training slip if you're not careful! It's vital that you put as much thought and planning into your staff training as you do into training for your customers, though we know this can be challenging for smaller businesses!
Making time for training can sometimes just feel like time away from the real work you have to do, but it's important to give your team the chance to grow and expand their knowledge while in the workplace.
There are lots of different ways you can approach internal training, so let's take a look at the best ways to find the right type of internal training for your small training business.
Internal Team vs External Training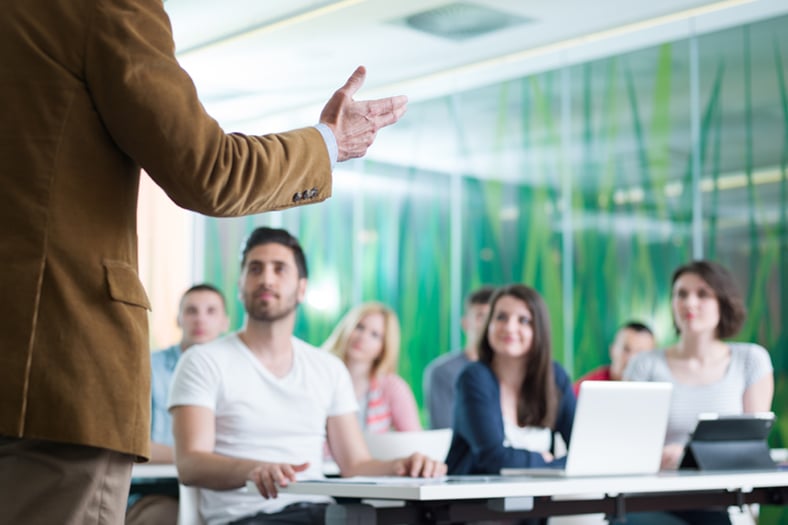 The first thing to think about when it comes to organising your internal training is whether you want an internal training team to arrange your training for your business, or whether you want to bring in external training professionals to administer your training.
When you're a smaller business, a big part of this decision will come down to cost. If you don't have an Internal Training team in place already, then you may not want to deal with the considerable expenditure of hiring one. However, if you already have some Internal Training team members, then they will be best placed to coordinate and run some of the training sessions your staff need to go through.
Even with an internal training team, they may not be able to administer all the training you need themselves, as you may require some specially qualified trainers to cover specific topics.
Delivery Methods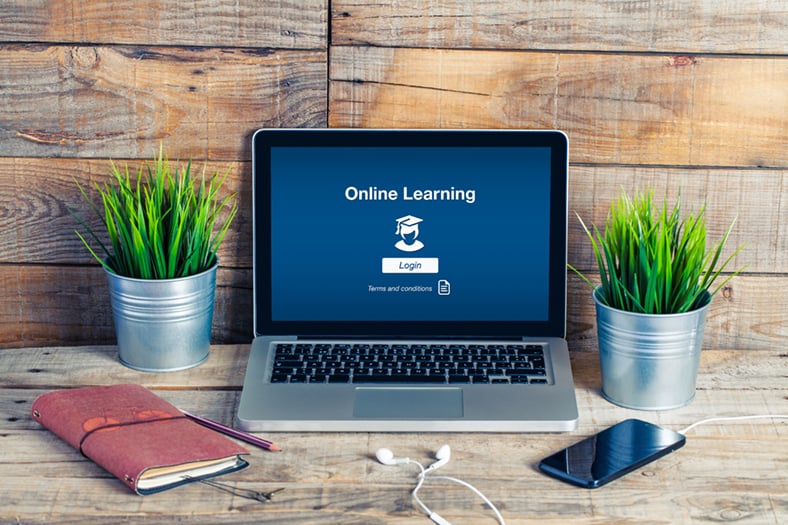 The next thing you want to think about is delivery methods for your internal training and what will work best for your business. The two primary delivery methods that you can choose from are classroom-based sessions or eLearning, though you may wish to mix the two for a blended learning offering.
Classroom-based sessions are great for ensuring everyone completes a particular block of training in one sitting, so you can be confident this training has been completed. However, it can be hard to coordinate a good time for everyone to take time away from their work to complete the training. You may not think this would be much of an issue with a smaller team, but if all your staff were in a training session at once, it would effectively mean your business was closed for a few hours at a time, which is less than ideal.
eLearning is a great way for your staff to complete the required training in their own time, at their own pace! It means if they have some spare time throughout the work day, they can work through some of the training instead of having to schedule large chunks of time away from their work. You will need to look at whether the training your staff will need to complete would be suitable for eLearning, as some more practical subjects may require hands-on sessions and won't work as eLearning.
It may also be expensive to purchase access to eLearning courses for all your staff, so it's important to look at which option will be the most cost-effective for you if you take into account things like cost of the training as well as time lost to training.
Creating Training Plans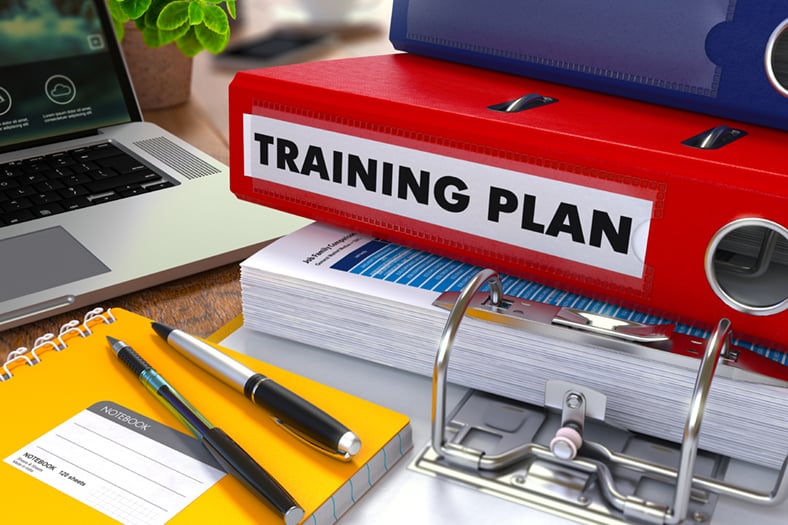 To find out precisely the training your team needs to complete it's important to sit down and write a training plan for everyone in your business. You could split it up per team, or go as granular as each person, but either way, it's important to think about the specific training everyone needs to sit. Not everyone in the company needs to attend every training session you offer, as this will be a waste of time and will leave your team feeling overloaded.
Individual training plans will allow you to decide what training everyone needs to complete, such as first aid or training on your computer systems, and which more tailored training everyone will need to sit to help them grow in their current role. That way everyone is only attending the training that specifically suits their needs.
Not only will this allow all your staff to look at their training plan, and know what is expected of them, but it will prevent you spending unnecessary money by having everyone attend all the training you offer.
Planning all your training at the start of the year will also allow you to see all the different training you need to offer, and will enable you to create an accurate training budget for your business.
Offering Additional Training
Another thing you may want to offer to your team is the chance for additional training. So, while you may lay out a training plan for them to complete, you may also want to give them the opportunity to suggest training they wish to achieve which they feel would help them progress in their role.
As a smaller business, you will need to be careful if you offer this sort of training, as you will obviously still need to stick to a training budget, and this may mean that you cannot fulfil everyone's request.
However, allowing staff members to request the specific sort of training they feel would be beneficial to how they do their jobs every day will do wonders for making your staff feel happy in their career.
Attend Conferences
A final training delivery method which you may not have considered before is attending conferences which are relevant to your business. It may not always be the case that there is a relevant conference in your industry that is also close enough for you to attend, but if you have the option, this could be a great chance to attend a lot of training over a couple of days.
Conferences typically have a few different tracks of speakers and workshop sessions running at the same time. To ensure you get the full benefit of every session you could send various members of your team to different sessions and then get them to report back on what they have learned to the whole team at a later date.
This could be a great way for your small business to learn a lot over a short space of time, without a lot of planning and coordination, as all you need to do is buy the tickets for your staff to attend rather than booking lots of individual training sessions.
This may mean a couple of full days out of the office for most of your team, but the cost of the conference tickets could work out as a lot cheaper than the price of multiple training sessions - so it could work out to your benefit.
Want More Smaller Training Business Advice?
Download our new eBook 'Using a TMS to Improve Your Smaller Training Business' to read how a training management system could improve your training offering in a massive way!