So far in our introduction to eLearning, we've covered the selection of appropriate eLearning tools as well as shared some tips on authoring better eLearning content.
In our final post in the series we'll look at 6 ways to adapt traditional learning delivery approaches to include an eLearning twist.
1. Go beyond the course
A diverse range of students can make using a classroom only approach challenging - how do you accommodate preferences for different styles of learning or students learning at different speeds? Incorporating eLearning can help compliment your class syllabus for those students who are progressing faster than others. Provide additional course branches for faster learners to help them develop a deeper understanding around a subject or simply let them progress quicker through the course with a more self-paced approach to learning. Some of your students may never actually complete the eLearning element, but it's there as an avenue for those who may get bored if they can't progress.
2. Help your learners play catchup
Conversely to the above, what about those who are struggling to keep up with the rest of the class? Some face-to-face time will help you understand why they're finding things more challenging, but why not offer them the option of running through some recapping material through eLearning? They may be struggling with a concept in a class environment where there are always going to be distractions, so give them a route to follow up independently and help cement their learning.
3. Flip the classroom entirely
Instead of using classroom time to deliver your training and asking learners to complete assignments independently, why not use eLearning to completely flip this and do the reverse? If your training lasts 3 or 4 sessions, why not try delivering one session using video through a Learning Management System and running the follow up assignment in the classroom? Give students the option to ask questions after they've viewed your video and cover these at the start of your classroom time before moving on to the assignment itself.
Evaluate performance with a similar group who complete their course exclusively in the classroom and measure the impact on pass rates.
4. Deliver your training remotely
One of the main advantages of eLearning is the that you're not constrained to a bricks and mortar building - you have the option to deliver your training remotely. This can be especially important in situations where traditional Instructor Led Training (ILT) may not be logistically possible. Perhaps there's no physical room to accommodate a large group for training, the environment doesn't lend itself well to learning (noise, heat etc.) or there's challenges or considerable cost in actually getting an instructor to the location. eLearning ensures that even in instances such as this, investment into your staff's training and development is still entirely possible if you change the method of delivery.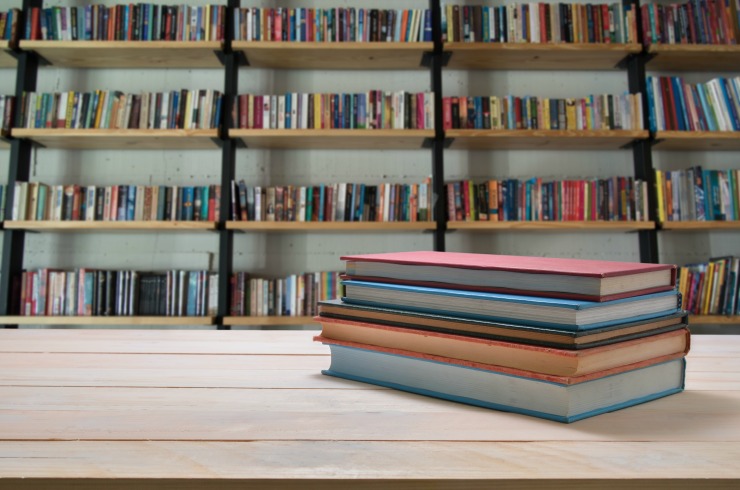 5. Tell a different story
Stories are fantastically effective at captivating our minds. They're proven to activate parts of the brain that aren't normally sparked by more basic presentation of information, helping engage learners in a way that transcends simply reading similar information from a presentation slide alone.
"The brain, it seems, does not make much of a distinction between reading about an experience and encountering it in real life" (Annie Murphy Paul, NY Times)
Recounting a story about a real life scenario or experience will likely result in a greater affinity and emotional connection with the learner. This can be particularly useful in scenario based training, for example when providing training on sales techniques. An instructor detailing past experiences is likely to be much more effective than learners reading a series of bullet points discussing best practice selling techniques.
Story telling has long been used in traditional class room environments with good effect, but what if you could move beyond the constraints of Powerpoint only? Use eLearning to elaborate on your story with embedded video, social media updates, interactive quizzes etc. The story suddenly becomes interactive and perhaps more relatable to your audience.
6. Use Project-Based Learning
Traditionally involving a team-based classroom approach, Project-based Learning (PBL), challenges students, to acquire a deeper knowledge around a particular real-world challenge or problem through developing their investigative and problem solving skills.
The wealth of digital resources available online make eLearning an ideal channel with which to deliver a similar PBL experience to that of the classroom. However, why not mix things up with a flipped classroom approach to PBL? Students find out the nature of the problem to be solved and any supporting materials through eLearning, outside of the class, and come to class excited to work as part of a team to collectively find a solution. Well designed course content may well hint at further reading to encourage active learning outside of the core syllabus and whet appetites in advance of class based discussion. Reduce 'social loafing', whereby some team members may exert less effort on a task if they are in a group versus working alone, by setting individual eLearning assignments.
Delivering eLearning
It's important to remember that a 'one size fits all' approach to incorporating eLearning isn't advisable. It's often best to run a pilot course including a portion of eLearning to see if it works for you and your learners first, before potentially rolling out it's wider use in other courses.
Finally, while we're big advocates of using eLearning within training programmes, we also recognise the use of Instructor Led Training remains vital. With increased adoption of eLearning, ILT and face-to-face time with your learners may well be reduced. However, the time you do spend in front of your learners should be much more effective as a result, allowing you to achieve more meaningful progress within the classroom.
Part 1 - 'Selection of eLearning Tools' can be found here.
Part 2 - '6 Content Authoring Tips' can be found here.
Our Training Management System (TMS) helps you manage the administration of courses and our Learning Management System (LMS) ensures you can deliver great eLearning. Get started today!
---
Get started with eLearning - Free eBook!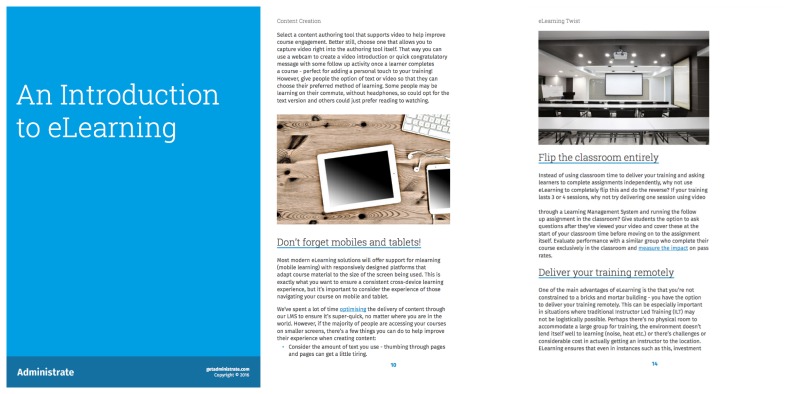 Enjoyed this post? Download the full 'An Introduction to eLearning' eBook for advice on:
Why eLearning is important
The technology required
Creating eLearning content
Adding eLearning to 'traditional' learning
'Flipping' the classroom
Using 'project-based' learning