On the 19th of September we're kicking off the LITE festivities a day early with Start-up Night - a chance for start-up professionals in the local area to attend some amazing talks, network, play some beer pong, and have some fun!
Held in CodeBase's events space, Start-Up Night is co-hosted by Lead Liaison and Administrate and will kick off at 6:30 pm. You can check out our full schedule of talks below, which will run until about 7:30 pm.
Afterwards, Lead Liaison will be holding a beer pong tournament, with the chance to win a beer pong table of your very own! It's the perfect chance to have a drink with us as well as network with other start-up professionals.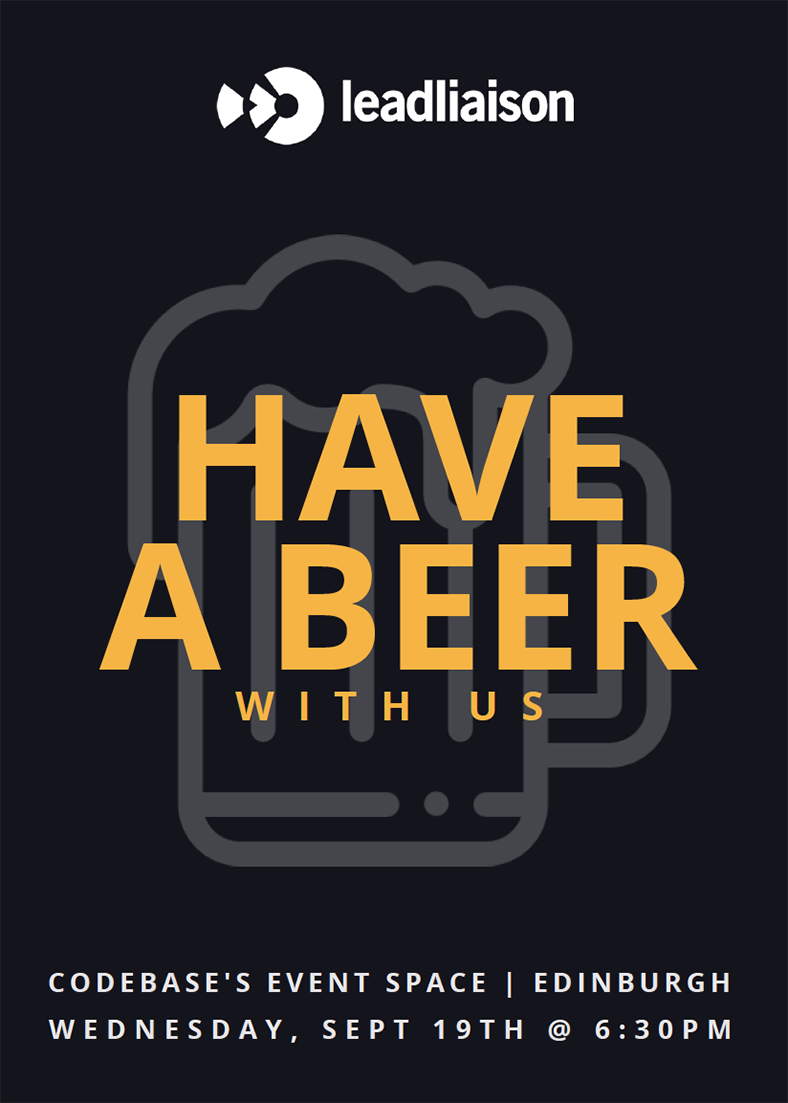 Speaker Schedule
6:30 pm - 6:45 pm - Mike McGrail (CEO - Velocity Digital) - 'What the Hell is a Marketing Flywheel?'
6:45 pm - 7 pm - Brian Corcoran (CEO - Turing Fest)
7 pm - 7:15 pm - Denis Mallon (Creative Director - Stampede) - "Why Your Startup Needs a Story?"
7:15 pm - 7:30 pm - Ryan Schefke (CEO - Lead Liaison) - "An Introduction to Lead Liaison for Start-ups"
7:30 pm - Onwards - Networking, drinks, and beer pong!
Event Details
Where - CodeBase Events Space, 38 Castle Terrace, Edinburgh, EH3 9DZ
When - 19th of September
Time - 6:30pm
Start-up Night is free to attend, simply head to the sign-up page to register your interest and we'll see you there!
Sponsor Spotlight!
Not only are Lead Liaison co-hosting 'Start-up Night' with us, but they are also one of our sponsors for LITE 2018!
Lead Liaison is a marketing automation and lead management tool, which provides solutions such as lead nurturing, lead distribution, and lead tracking to help its users keep track of those important leads, covert and engage more website visitors, and build stronger relationships with customers, prospects, and partners. Not only do we use Lead Liaison internally, but Administrate also has an integrating with Lead Liaison - check out the full details here!
Check out their website and social profiles below!