Administrate has always been a great way for training providers (both training companies and internal training departments) to manage their operations. Our training administration system was built to help training managers do their jobs faster and better, and has done so for years.
However, those training organisations that wanted to provide eLearning to their students needed to go elsewhere. Until today!
What Our Beta Testers Are Saying
For the past six months, we've been vigorously testing our new Learning Management System (LMS) which has been built from the ground up to be a total eLearning solution. Our beta testers have been incredible - they've run thousands of students and many thousands of hours of instruction through our new LMS, provided feedback, suggestions, and used our new platform to its fullest. It's come to the point where we consider them part of our team - a team dedicated to building the ultimate modern online LMS that is tightly integrated with Administrate and its training management features.
"The new LMS from Administrate has exceeded our expectations," said Ibrahim Sabra, Digital Business Manager of Morgan International, one of the largest professional certification training companies in the Middle East. "We're really excited about the current features and about the future of this product!"
We Got a Top Ten Ranking!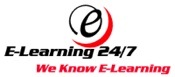 Along the way, while still in beta, we were honoured and humbled to receive a top ten worldwide ranking from influential eLearning thought leader, blogger, educational consultant, and international speaker, Craig Weiss. On his highly influential blog, E-Learning 24/7, Craig reviews over 500 Learning Management Systems and this year ranked our new LMS #9. He notes, "What makes them hit the top ten is that they are one of these LMSs that offers some very unique features."
Features
Our goal is to provide the ultimate cloud Learning Management System. Here's a sample of our features, for full information, click here.
Fully SCORM Compliant - Completely brandable with CSS, colour schemes, and vanity domains.
Lightning Fast Content Delivery - Detailed reporting for students and training administrators (including customisable reports).
Multi-Lingual - we've translated the LMS into English and Arabic, with more languages coming!
Built for Mobile Devices - our LMS user interface is fully responsive (meaning it'll look great on mobile phones and tablets) and reacts appropriately to whatever screen size you're using. Use your HTML5 SCORM content to provide an awesome learning experience to mobile learners.
Pricing
We price our LMS by active users (students), with some great volume discounts available!
You'll also want to sign up for the Administrate core system to leverage all the advantages having a training administration system can provide. Remember - students use the LMS, training administrators use Administrate. Our mission is to make sure both groups get great software!
Special Launch Offer!
To celebrate the launch of our LMS, we're offering a 25% discount for the remainder of 2013. Sign up today and you'll enjoy the discounted rate until the end of the year!
Interested but not sure if we're right for you or want to talk to someone? Book a personalised demo!