You may be lucky enough to have never seen the pages that Administrate generates when we have problems, but they were a bit…ugly. We've just updated them! Now if you encounter an error, you'll see a cleaner, less confusing, more informative page than before. Note that error pages for enterprise customers will respect the support details you may have set for your internal help desk (if any) and won't necessarily display the Administrate help desk details.
System Errors
When encountering a system error (Error 500), here's what you can expect:
Broken Links or Nonexistent Pages
If we have a broken link or you mistype a URL (Error 404), you'll get this page: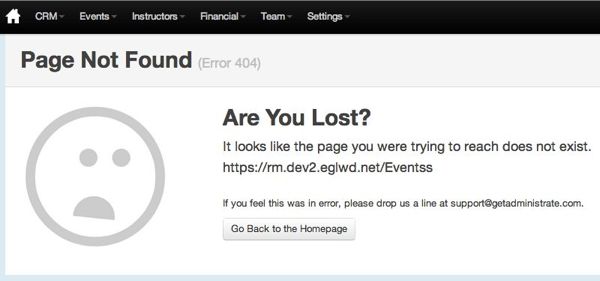 Permission Denied
Like most technology companies, we have a lot of geeks working here - most of us are big fans of the science fiction and fantasy genres, so we thought we'd pay homage to one of our favourite literary and film franchises. For pages that exist, are working properly, but you don't have the appropriate permission to access (Error 403), you'll be treated to a visit with Gandalf from the Lord of the Rings and The Hobbit as he makes his stand against the mighty Balrog in the Mines of Moria. In other words, "You Shall Not Pass!"
Note that permission denied errors are not addressable by Administrate staff, as you control the permissions and user roles on Administrate yourself. We now provide a listing of the Superusers who can make amendments to the user's permissions to speed up resolution to these problems.
Permission Denied (Error 403) Pages now look like this: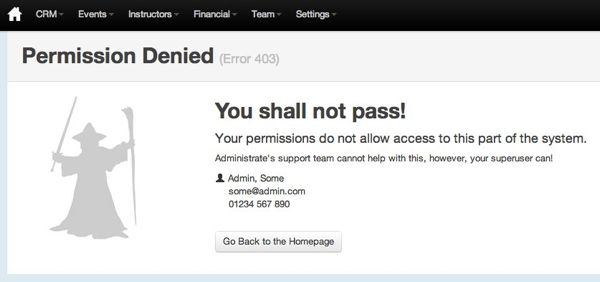 Conclusion
We hope you never run into these pages, but if you do, hopefully we can make your day a bit brighter with some humour while we work to fix things for you!