EDINBURGH, Scotland, December 21, 2015 /PRNewswire/
Introduction of pioneering 4-day week increases productivity and wellbeing
Voted #1 Learning Management System (LMS) by industry leader

$2.5 million

round funds next phase of growth
Administrate, a software as a service (SaaS) solution for training providers, has secured an additional $2.5 million (£1.7 million) in an oversubscribed funding round led by Scottish angel syndicate Archangels, including investment from the Scottish Investment Bank, the investment arm of Scottish Enterprise. 2015 has seen Administrate's team triple in size in response to significantly increased demand for its products from North America, the UK and the Middle East and is now one of Scotland's fastest growing tech companies.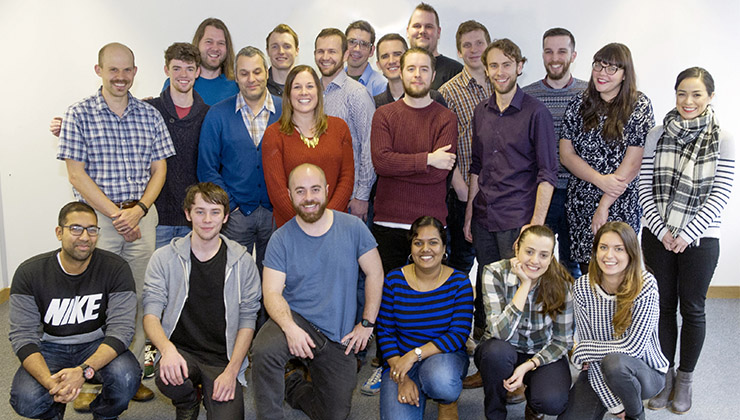 Administrate sells its software to large organisations that struggle to define, manage, report on and sustain employee engagement in relation to training. The average firm spends more than $1,800 (£1,200) per employee per year but faces problems trying to accurately track this spend and measure engagement. After implementing Administrate, customers realise huge time savings, can drive strategic training initiatives and increase student engagement.
The market is taking notice - recently Administrate was named the #1 Learning Management System (LMS) for Continuing Professional Development by respected industry thought leader Talented Learning and some of the biggest brands in the world now rely on Administrate including PwC, Elsevier, Scania, Becker, Ag Leader and the Brunswick Corporation.
In addition to developing world class products and as reported by British national newspaper The Sunday Times in December, Administrate recently differentiated itself as a pioneer in the workplace by announcing the implementation of a 4-day, 32-hour working week for all employees without any change to remuneration. The company began testing the program in May, with the team working in shifts to provide 5-day coverage and quickly saw an increase in productivity and employee wellbeing. Administrate views this workplace innovation as part of its underlying mission to build a sustainable and high performing work environment.
John Peebles, CEO of Administrate, said: "This year has been incredible! We've built an amazing team delivering success to our global customer base, supported by our investors and in keeping with our company values. We're just getting started and are looking forward to an even better year in 2016."
Mary Jane Brouwers, Investment Executive at Archangels, said: "At Archangels, our ability to provide ongoing support for the companies we invest in is key to our collective success. We're excited by the opportunity that Administrate has identified for a step change in its growth trajectory and our members have demonstrated their enthusiasm by backing this significant funding round."
Administrate currently employs 35 people at its headquarters at CodeBase in

Edinburgh

. The company has previously raised over £1.9 million from investors Archangel, TRI Cap and the Scottish Co-Investment Fund.
The Administrate training management solution includes:

CORE: Training Management System - designed to handle all administrative tasks and save tons of time. Administrate customers use the core system to run their entire business or internal training department.
LMS: Learning Management System - a highly ranked, mobile friendly, SCORM compliant eLearning system.
WEB: Website Integration - turn any website into a course booking and registration machine. Accept payments, make your website SEO friendly, and automatically update course listings.

While the overall global market for training services is estimated at almost £200 billion according to TrainingIndustry.com, Learning Management Systems (LMS) and eLearning are the fastest-growing market segments and fit squarely with Administrate's product offering. The LMS and eLearning markets are forecast to reach almost £5 billion and £70 billion respectively by the end of 2015.
Archangels is

Scotland's

leading angel syndicate and has been at the forefront of early stage investing in

Scotland

for more than two decades. Members invest in and mentor promising startups and early stage companies from

Scotland's

vibrant technology sector.
The Scottish Investment Bank (SIB) is the investment arm of

Scotland's

main economic development agency, Scottish Enterprise, operating

Scotland

-wide in partnership with Highlands and Islands Enterprise.
Originally released via PRNewswire.
For further information:
Additional Coverage: