So you've integrated online course booking with your website - fantastic! You're ready to sell your training to the world. Unfortunately, Kevin Costner's idealistic 'Field of Dreams' approach of 'if you build it, they (he) will come' doesn't transition well to digital - if you want to scale your online presence, you're going to need to fully embrace the digital world.
We're not suggesting you Snapchat your breakfast, rush to employ a social media ninja or offer 'Pikachu catching courses' a-la Pokémon Go, but it's certainly worth investing time and budget into digital strategies if you're serious about supercharging course sales.
In the first of three posts on an introduction to digital marketing, we discuss the vital role of content marketing and check-off some SEO (Search Engine Optimisation) basics. These posts are by no means a comprehensive strategy, but we hope they will help kick start your digital marketing activity.
Content Marketing
Think of your website's content as being the hub of your digital marketing activity, a central point that all activity should be routed to. Sat in front of a keyboard, with a blank screen staring back at you, many will ask... where do I start?. Here's some helpful pointers to help ensure your content hits home and converts 'training lookers' to 'training bookers'.
Establish the objectives of your content first - Who is it for? What will they expect from your content? What would encourage them to purchase your training course? What would inspire them to share your content? Determining the motivation of your readers helps steer your content production. Perhaps they've just started a new job and their employer is placing them on a course, perhaps they're retraining to change roles or they could be looking to boost their personal skills while on the hunt for a new job. Of course you could be selling B2B, in which case give consideration to who your buyer is? Is it one person or a DMU (Decision Making Unit)? Why would they choose you over a competitor? How can you add value with your content?
Create personas to ensure you're writing for real people - Writing might not come naturally to you, but it's especially challenging if you're not sure who your audience is. Take a look at your existing customer base and try to build out a few personas that cover the majority of customer-types you're likely to encounter. Name them - even if it's something a little quirky, like Retraining Ralph, New Job Natalie and Job Hunting James. Picture them - even if it's using the cheesiest of stock photos! Profile them - who are they and what makes them tick? Ready to get started? The guys over at Buffer have a great guide on creating personas that's well worth a read.
Focus on benefits-oriented copy - While you obviously need to ensure that your content includes the essentials (pricing, location, duration, study methods etc.), make sure to outline the benefits of completing the training. What will be the outcome of taking one of your courses? Perhaps give case studies on what others have achieved after receiving your training so that potential students can envisage themselves following in those footsteps.
Mix things up! Don't stick to words alone. Why not add the occasional 'vlog' (a video blog post) to your site, where key employees and instructors offer a taster of what your training offers or have previous customers discuss how awesome their training was? It helps put a face to your organisation, introduces potential students to their future mentors and provide points of reference as to what they can expect from their training.
Seed it! There's nothing worse than pouring your heart into a piece of content and knowing that only 10 people skim-read it. Put your content in front of relevant eyes in the hope that it'll be read, appreciated and shared. How? Join LinkedIn groups and sign up to forums where your industry is being debated, participate in the online discussion and post your content when relevant. Visit like-minded blogs and news portals that discuss similar topics to yours and offer your take on the matter in the comments. Start a social debate on the subject within Facebook, LinkedIn, Twitter etc. Make sure it's very easy for passionate readers to share your content socially too.
Consider your content may not be viewed on desktops and laptops alone - If you anticipate high mobile traffic, then aim for brevity to avoid 'thumb-ache' and low image file sizes so that they load quicker on slower mobile connections.
Top Tip! If you have access to Google Analytics, you can see the split of Desktop, Mobile and Tablet traffic to your site under Audience > Mobile > Overview, helping you prioritise your content creation focus.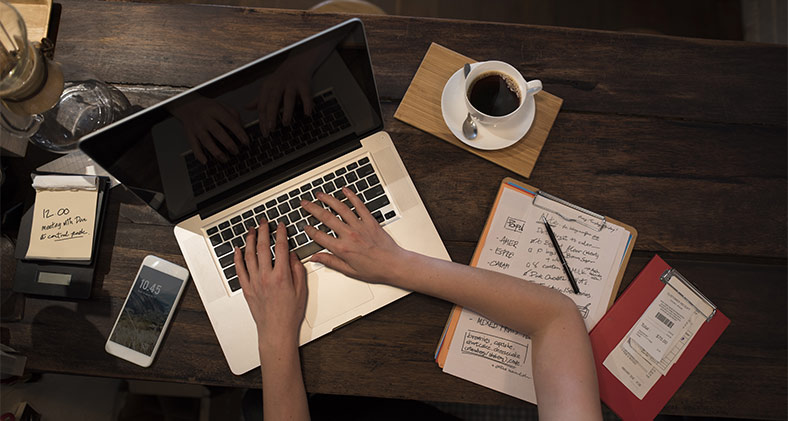 SEO (Search Engine Optimisation)
Don't be put off by the acronym, the fundamentals of SEO (Search Engine Optimisation) are fairly straightforward and easily achievable by a non-techie! SEO can be broadly categorised as on-page or off-page. Wait, what?
On-Page SEO: Everything that you can affect within the content and structure of the page to improve your search engine ranking.
Off-Page SEO: Everything else that happens external to your website that affects your search engine ranking, e.g. links back to your site, social bookmarking etc.
So that the great content you write has the best chance of being found online, we've focused on a few of the basic On-Page SEO elements below. This is by no means an exhaustive guide to SEO, but it's a good starting point and you can learn lots more from our friends at Moz here.
Most Content Management Systems (CMS) like WordPress, Umbraco etc. should allow you to change the following on a page-by-page or post-by-post basis.
Page Title - This appears at the top of the browser window when you visit a webpage and within search engine results themselves (see below). Along with the Meta Description, it's your digital first impression and we all know the value of first impressions right? It should be relevant to the content of the page (so for example, the Page Title for this blog post is 'Supercharge Course Sales with Digital Marketing') but also entice someone to click your result amongst many others within search results. Most search engines display a maximum of 60 characters for a Page Title, so short and snappy is the way forward! You can use online character counters to make sure you're within those limits, although some CMS have handy character counters built in too.
Meta Description - This is the lengthier paragraph of text that sits beneath the Page Title within search results. Here you get around 160 characters to sell your content and encourage the click through. As an example, the Meta Description for this blog post is below.
URL - Ensure this follows a hierarchical structure - a fancy way of saying, organise your content and site sensibly. For example, if you offer Health and Safety training and a subset of that is Manual Handling training, then you'll probably want to structure your URL like exampletrainingcompany.com/health-and-safety/manual-handling-training. Try to include a keyword or two in the URL so that it's relevant to the page content and avoid 'joining' words like 'and', 'the', 'of' etc as they won't add any SEO value. For example, this page has the URL getadministrate.com/blog/supercharge-course-sales-digital-marketing-part-1

While many other factors are believed to affect the search engine performance of a page, this covers the basics of what you can do to optimise every page and post of your site. It's best to avoid what's known as 'keyword-stuffing' (excessive inclusion of a keyword within your page's content) and write content for humans, not robots.
Top Tip! If you're running a WordPress site, then consider downloading the free Yoast SEO plugin. It adds the option of specifying Page Titles and Meta Descriptions on pages/posts as well as opening up a whole host of other SEO tricks and options.
Start Your Engines...
This post focused on how you can create content to convert while ensuring that some of the optimisation basics are covered too. The key is in the ignition and you're ready to start the engine. In future posts we'll accelerate towards paid advertising, social media, email marketing and tracking - on our journey to supercharge your course sales.
Looking to integrate online course bookings with your website? Administrate has you covered with our WordPress plugin, WebLink or API. Sign up for a free trial to get started.