One of the things we love about living and working in Edinburgh is the wide range of festivals and events that occur year round in this amazing city. Many of us being techies (we are a software company after all), one of our favourite events of the year is the annual Turing Festival, held each August.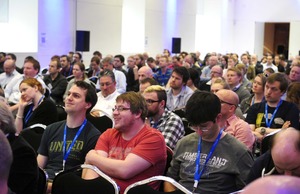 This year we'll be sending a crew to attend and learn from the the collection of incredible speakers from all over the world discussing technology, startups, investment, and a whole lot more. Our CEO John Peebles will also be giving a short presentation as part of the Startup Entrepreneurship session Friday morning. Other speakers sharing the stage during this session include Bill Aulet from MIT, Nick D'Aloisio of Yahoo/Summly, Brian Caulfield of DFJ Esprit, Nigel Eccles of FanDuel, Carlos Eduardo Espinal of Seedcamp, and Jim McKelvey of Square.
It's going to be a great weekend of learning, laughing, networking, and reflecting on how we can improve as a company.
If you're in town and would like to hang out, get in touch! You'll find Administratives attending the sessions, networking events, and parties throughout the event.
P.S. We're even told that there are a few last minute tickets available!